Services
Listening is the foundation of our process.
eMZed Architecture provides architectural design and planning services for new houses, additions and renovations, ADUs and studios, multifamily, and light commercial projects. We tailor our designs to meet the vision of each client, whether modern, traditional, or eclectic.
Without inserting a pre-conceived agenda, we help our clients identify and then prioritize goals and project requirements. In order to evaluate how all these pieces fit together, and before investing too much time in one scheme, we typically present several preliminary design options and their associated approximate costs so that clients can evaluate a variety of solutions and make informed decisions. Once the project's scope is better defined through these early explorations, we develop drawings for permit, and typically remain involved during construction. Throughout the design process, we communicate clearly and work closely with our clients so they remain fully involved and can help shape the project.
We also work collaboratively with contractors, cultivating relationships of mutual respect and cooperation, to achieve the highest potential of every project within its budget. Our thorough, carefully detailed drawings make it possible for contractors to provide accurate pricing and reduce stress during construction. We are recognized frequently by contractors and even by city/county reviewers for the completeness and clarity of our drawings (see Contractor Testimonials).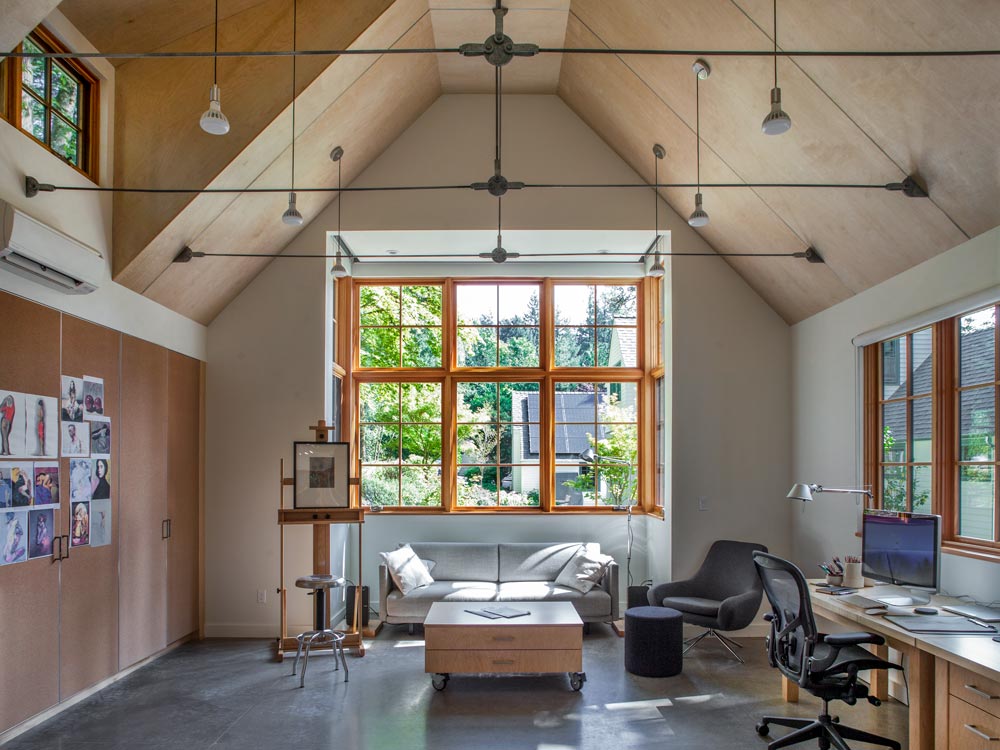 Our mission is to provide clever and resourceful design
The scope of services we provide is flexible, allowing clients to determine the level of design that meets their needs. Our work ranges from providing the minimum design services required for construction of a well-conceived structure, to providing full services, including selection of materials, finishes, and equipment.
If a client is trying to decide whether to proceed with a project, we may recommend an initial feasibility study to evaluate code requirements, site characteristics, preliminary design options, and other considerations. We also provide master-planning services, where projects may have several phases of construction and need an overall plan to establish logical sequencing.
Regardless of project type and size, our mission is to provide clever and resourceful design to make the most of each project's opportunities. Early on, we will present, explain, and integrate applicable green building measures to improve energy efficiency, long-term durability and performance, and to provide more comfortable, healthy, and uplifting spaces (see Sustainability). Throughout the design process, we are direct with clients about anticipated project cost, and work to craft solutions that are respectful of their budget.
We will carefully shepherd you and your project through the design and permit process, facilitate communication and negotiation with a general contractor, and assist as needed during construction. We will bring enthusiasm and energy to your project and provide ample attention to its development from start to finish.
The first thing that impressed us about eMZed Architecture was their listening skills. They not only heard what we were saying, they knew what we meant. We benefited from Keyan and Alexia's collaboration during the design process, and again through the various other phases of our project. They are professional, creative, thorough, ethical, organized, and very skilled and informed about their business.
Tom & Maggie